Who am I ?
Hi! Let me introduce myself.
First of all I'm the mother of 3 children who were all breastfed until they weaned naturally.
I can't say breastfeeding my first son was easy at the beginning because I listened too easily to what health professionals, family and friends had to say about breastfeeding instead of simply listening to my son and my instincts but once both he and I had got over our initial difficulties it was plain sailing.
Thanks, Chris, for being so patient with your young mum, and a special thanks to Evelyne, a La Leche League leader who I met just at the right time, without whom I would probably have given up before discovering the joys of breastfeeding.
With my two other children I was more confident and strangely enough had no negative remarks or comments about my choice of breastfeeding or lifestyle.
As I had received so much help and support from other mothers I decided to become a leader myself to help other young mothers with their breastfeeding projects and have been a leader since 1997.
As I became more and more involved in breastfeeding and it's promotion the idea of making this my main occupation became more and more evident and in 2011 I trained for and successfully passed the IBCLC exam.
Lactation consultant since November 2011 IBCLC.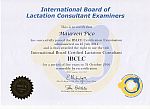 IBCLC
An IBCLC is a specialist in human lactation and breastfeeding management and care. Her role consists of helping mother and baby throughout breastfeeding from the desire to breastfeed to weaning.
IBCLCs adhere to the IBLCE Code of Professional Conduct and practice within the Scope of Practice for IBCLCs.
IBCLCs are required to keep their knowledge and skills current. They must recertify every 5 years through continuing education or re-examination.
IBCLCs function and contribute as members of the health care team and make appropriate referrals to other health care professionals and community support resources.
IBCLCs possess the skills, knowledge and attitudes to provide comprehensive lactation and breastfeeding care and education in routine and special circumstances across the chronological spectrum of pre-conception to early childhood.
IBCLC ?
International board certified lactation consulant :
Official website : IBLCE